Top 10 Magazines for Men
The magazine market is saturated with magazines that are just for men. But here at Unbound Media, we post a lot of girly things and tend to forget that dudes need magazines just as much as we do to find out what's up in the lifestyle and fashion categories. So in order to make up for all of the fashion magazines and illustrations, we made a list of the top ten magazines created, written and distributed just for men.
1. Esquire
Esquire has been around since 1932. Ernest Hemingway used to contribute regularly. It covers grooming, women, lifestyle, politics and other topics of interest to interesting men.
2. GQ
GQ, or Gentlemen's Quarterly, launched way back in 1931. Back then, it was a magazine for business owners in the apparel industry. Since then, it has become more a general lifestyle publication.
3. Sharp
Sharp is a Canadian men's lifestyle magazine launched in 2008. Twice a year, "Sharp: The Book for Men", is published as a special issue. The magazine's content includes fashion, travel, food, technology and more.
Men's Journal is made up of useful information regarding the great outdoors, travel, politics, current event and everything that the modern man should now. Its content is written by experts and professionals who know everything about their given fields.
5. Men's Health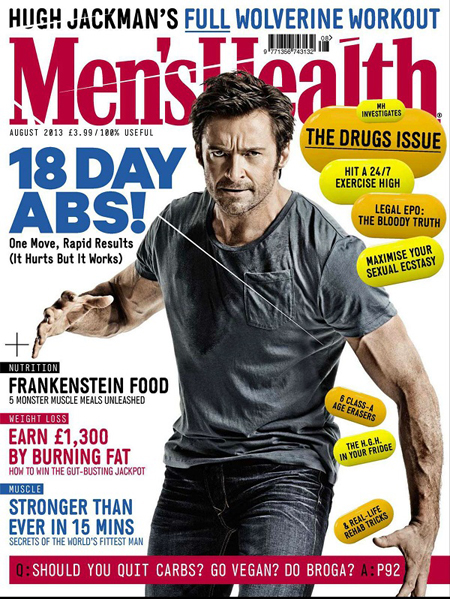 Men's Health launched in 1987 and now it has nearly 40 editions worldwide. It's kind of a big deal in the world of men's magazines. The magazine offers up articles on fitness, nutrition and other manly things.
6. Details
This Condé Nast publication was founded in 1982 by Annie Flanders. Details' main focus is fashion and lifestyle but it also reports on social and political issues.
7. Maxim
It's pretty obvious why men like this magazine. Girls.
I had to include at least one sports magazine on this list. This one also puts out an annual Swimsuit Issue. Dudes seem to like it.
9. AskMen.com
Online magazine AskMen.com was founded in 1999. The site features a lot of content, including articles about dating, finance and entertainment. It also has an in-depth profile section with biographies of people in the entertainment and music industry.
10. Bro Bible
Bro Bible is another online-only magazine and its target reader is a dude between the ages of 18 and 30 who like beer, girls and technology.
---